Copyright © 1996-2003 Sarah Henderson.
Last updated 14 October 2003


Kiwiana is a name given to sum up all aspects of New Zealand culture, such as the famous Buzzy Bee. I can only hope to include a small selection here, basically just to whet your appetite. If you want to explore kiwiana further, there are some good sites in my NZ Links section.
Kiwi Food pavlova, afghans, anzacs, hokey pokey, gingernuts, vegemite
Maoritanga pronunciation, haka, place names
A kiwi is a rare flightless bird native to New Zealand. It is an endangered and protected species, and has come to be a symbol of this country, similarly, I think to a bald eagle being a symbol of the US. A 'Kiwi' is also an affectionate informal term for a New Zealander. The green fruit with the brown skin that used to be called a chinese gooseberry and that Americans call 'kiwi' is known everywhere else in the world as 'kiwifruit'.
Some people don't realize that Americans don't know the difference between a kiwi and a kiwifruit, so if you tell a New Zealander that you ate a kiwi, you are unlikely to be accused of cannibalism, but if the NZer doesn't realise that you mean a kiwifruit, you will probably shock & offend them (what would your reaction be if I told you that I ate a bald eagle?). If they understand that you mean a kiwifruit, they will probably just be annoyed.


kiwi food
The Edmonds Cook Book
This book is a NZ institution, it is the best selling book in New Zealand, ever! Every house should have one. Here are some recipes from my copy for things that might be hard to get outside NZ.


pavlova
| | |
| --- | --- |
| 3 egg whites | 1 teaspoon Vinegar |
| 3 tablespoons cold water | 1 teaspoon vanilla essence |
| 1 cup castor sugar | 3 teaspoons cornflour |
Beat egg whites until stiff, add cold water and beat again. Add castor sugar very gradually while still beating. Slow beater and add vinegar, vanilla and cornflour. Place on greased paper on a greased tray and bake at 150 degrees Celsius (300 degrees Fahrenheit) for 45 minutes, then leave to cool in the oven.
If you try to get it shaped like a cylinder, flat on top, you will probably find that the outside shell cracks. I find it easiest to make a sort of shallow mound, but it doesn't really matter, since all the whipped cream you put on it hides everything. The traditional Kiwi pavlova has slices of kiwi fruit on the whipped cream, but you can also put strawberries or anything else. It is best to put the topping on as late as possible before you serve.


afghans
| | |
| --- | --- |
| 200g butter | 25g bournville cocoa |
| 75g sugar | 50g cornflakes |
| 175g flour | |
Soften butter, add sugar and beat to a cream; add flour, cocoa and lastly cornflakes. Put spoonfuls on a greased oven tray and bake about 15 minutes at 180 degrees Celsius (350 degrees Fahrenheit). When cold, ice with chocolate icing and put a walnut on top.


anzacs
| | |
| --- | --- |
| 125g flour | 100g butter |
| 150g sugar | 1 tablespoon golden syrup |
| 1 cup coconut | half teaspoon bicarb soda |
| 1 cup rolled oats | 2 tablespoons boiling water |
Mix together flour, sugar, coconut and rolled oats. Melt butter and golden syrup. Dissolve bicarb soda in the boiling water and add to butter and golden syrup. Make a well in the center of flour, stir in the liquid. Place in spoonfuls on greased trays. Bake 15 to 20 minutes at 180 degrees Celsius (350 degrees Fahrenheit).


hokey pokey
| | |
| --- | --- |
| 5 tablespoons sugar | 1 teaspoon bicarb soda |
| 2 tablespoons golden syrup | |
Bring sugar and golden syrup to the boil slowly stirring all the time. Simmer gently over a very low heat for 4 minutes, stirring occasionally. Remove from heat and add bicarb soda. Stir in quickly unitl it froths and pour at once into a greased tin. Break up when cold. Store in air-tight jars.


gingernuts
| | |
| --- | --- |
| 125g butter | 50g brown sugar |
| 3 tablespoons golden syrup | 250g flour |
| 1 teaspoon bicarb soda | eighth of teaspoon salt |
| dissolved in | 2 teaspoons ground ginger |
| 1 tablespoon boiling water | |
Cream butter, sugar and golden syrup together. Add bicarb soda dissolved in boiling water. Add sifted dry ingredients. Roll into small balls. Press with fork. Bake on greased trays for 20 to 30 minutes at 180 degrees Celsius (350 degrees Fahrenheit).


Vegemite and Marmite

Vegemite and Marmite are yeast extracts. They are both very salty tasting, but Marmite is sweeter than Vegemite. Or, Vegemite is very salty, Marmite slightly less so. They all use caramel for the dark colouring, Marmite is considerably sweeter (and darker) than Vegemite.
Vegemite eaters will generally tolerate Marmite, although they find it quite sweet, but Marmite eaters can't stomach Vegemite, as it is too strongly flavoured as a general rule.
I personally eat Vegemite. The trick is not to spread it on thickly like jam or peanut butter, but just aim to discolour the bread or toast underneath.

New Zealand's National Flag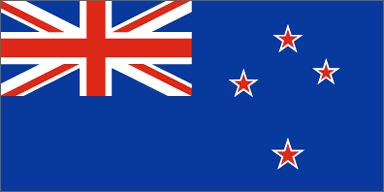 The Union Jack in the top left represents our history as a British colony. Many former British colonies have this. The blue represents the Pacific Ocean and the stars represent the Southern Cross constellation.

New Zealand's National Anthem
This song God Defend New Zealand is what you will hear played every time New Zealand play at a sporting event. The song became our National Hymn in 1940, with God Save the Queen being our National Anthem. In 1977, with the permission of the Queen, God Defend New Zealand was given equal status as an 'official' anthem.
The lyrics were written as a poem by Thomas Bracken (not a Kiwi) in the early 1870's, and there was a competition to find the best musical setting. This was won by a teacher from Otago named John J Woods.
The lyrics given here are those I copied out of an unknown book about 10 years ago. If I have got them wrong, particularly the Maori translations (I am not a Maori speaker), please let me know.
God of Nations at Thy feet,
In the bonds of love we meet,
Hear our voices we entreat,
God defend our free land.
Guard Pacific's triple star
From the shafts of strife and war,
Make her praises heard afar,
God defend New Zealand.

E Ihoa Atua,
O nga Iwi matoura
Ata whaka rongona;
Me aroha noa
Kia hua ko te pai;
Kia tau to atawhai;
Manaakitia mai
Aotearoa.

Men of every creed and race,
Gather here before Thy face,
Asking Thee to bless this place,
God defend our free land
From dissension, envy, hate,
And corruption guard our State.
Make our country good and great,
God defend New Zealand.

Ona mano tangata
Kiri Whero, kiri ma,
Iwi Maori Pakeha,
Repeke katoa,
Nei ka tono ko nga he
Mau e whakaahu ke,
Kia ora marire
Aotearoa

Peace, not war, shall be our boast,
But, should foes assail our coast,
Make us then a mighty host,
God defend our free land
Lord of battles, in Thy might,
Put our enemies to flight,
Let our cause be just and right,
God defend New Zealand.

Tona mana kia tu
Tona kaha kia u;
Tona rongo hei paku
Ki te ao katoa
Aua rawa nga whawhai
Nga tutu a tata mai;
Kia tupu nui ai
Aotearoa

Let our love for thee increase,
May thy blessings never cease,
Give us plenty, give us peace,
God defend our free land.
From dishonour and from shame,
Guard our country's spotless name,
Crown her with immortal fame,
God defend New Zealand.

Waiha tona takiwa
Ko te ao marama;
Kia whiti tona ra
Taiawhio noa.
Ko te hae me te ngangau
Meinga kia kore kau;
Waiho i te rongo mau
Aotearoa

May our mountains ever be
Freedoms ramparts on the sea,
Make us faithful unto Thee,
God defend our free land.
Guide her in the nation's van,
Preaching love and truth to man,
Working out Thy glorious plan,
God defend New Zealand.

Tona pai me toitu
Tika rawa, ponu pu;
Tona noho, tana tu;
Iwi no Ihoa.
Kaua mona whakama;
Kia hau te ingoa;
Kia tu hei tauira;
Aotearoa.
Maoritanga
Maoritanga is Maori culture; a way of life and view of the world. The ancestors and all living things are descended from the gods, who are often believed to be mountains, rivers and lakes, which is why the land is so important to the Maori. According to Maori myth, Aotearoa (New Zealand) was fished from the sea by Maui. Maui was fishing in his brother's canoe with his grandmother's jawbone as a hook, and what he pulled up was the North Island. The South Island is his canoe, and Stewart Island was the anchor for the canoe. Maui was a great pioneer and accomplished many things including slowing the sun to make the days longer and taming fire.
The Treaty of Waitangi was signed in 1840. The first article gave the Queen of England the right to make laws, and the second article promised the Maori full rights to their lands, forests and treasured possessions (and fisheries in the English version). The third article gave the Maori all the rights and privileges of British subjects.
Maori is now an official language of NZ, although outside the Maori community it is rare to hear it spoken except on ceremonial occasions. To preserve the language, there is a network of Kohanga Reo, or language nests, which are basically preschools where children learn the Maori language and culture. There are also Kura Kaupapa, which are Maori immersion schools, as well as bilingual units attached to many mainstream schools.
Maori culture was transmitted orally, through the telling of stories, song (waiata) and the reciting of whakapapa (genealogies). It was also represented in stylised form in carvings and woven panels that adorned whare (meeting houses). Maori music was supressed by early missionaries, and now primarily lives through waiata.
Kia Ora
This phrase is a general expression of wishing good fortune and all other good things to the recipient. Kia Ora is probably the most common Maori greeting. You pronounce the word with each vowel being sounded separately but run together. I.e. there are no dipthongs but the vowels are not lingered over.


Guide to Maori pronunciation
The five vowels; a, e, i, o and u, are pronounced in two ways:
| | |
| --- | --- |
| short | long |
| a as u in but | a as a in father |
| e as e in pen | e as ai in pair |
| i as i in bit | i as ee in feet |
| o as o in fort | o as o in store |
| u as u in put | u as oo in boot |
Where two vowels are together: both are sounded but they are run together smoothly.
The ten consonants in Maori: h, k, m, n, p, r, t, w, ng, wh.
The first eight are pronounced as in English. The last two are differend, with 'ng' being pronounced as the ng in 'singer', and 'wh' as wh in 'whale', or as a 'f', depending on the iwi.


The Haka
Non-Kiwis are often baffled by the 'dance' performed by mostly sports groups before matches or events. At the September 1999 APEC meeting in Auckland, it was described by the US press as a Zulu dance. A haka is a challenge to the opposing tribe who may have responded in a similar way. The words are chanted loudly (shouted) in a menacing way accompanied by arm actions and foot stamping.
The All Black rugby team and subsequently other touring sports teams have adopted a haka that was originally used by Te Rauparaha (a particularly notorious chief of the Ngati Toa tribe), which is only one of many hakas. Te Rauparaha, originally from Taranaki, raided various parts of NZ in the early 19th Century settling eventually on Kapiti Island near Wellington. Here are the words and a translation of Te Rauparaha's haka.
| | |
| --- | --- |
| Ka mate, ka mate | It is death, it is death |
| Ka ora, ka ora | It is life, it is life |
| Ka mate, ka mate | It is death, it is death |
| Ka ora, ka ora | It is life, it is life |
| Tenei te tangata puhuruhuru | This is the hairy man |
| Nana i tiki mai whakawhiti te ra | Who caused the sun to shine again for me |
| Upane, upane | Up the ladder, up the ladder |
| Upane kaupane | Up to the top |
| Whiti te ra | The sun shines! |
The story behind the haka is that Te Rauparaha was being chased by an enemy tribe. He hid in a kumara pit (sweet potato) and waited in the dark for the other tribe to find him or to pass by. He heard sounds above and the top of the pit was opened. Blinded by the sun, he thought he was about to be killed, but when his sight cleared he saw the hairy legs of the local chief who had let him hide in the pit. Te Rauparaha then jumped out of the pit and was so happy at being alive that he performed this haka on the spot.


Maori Place Names
The following list may help you understand some of the place names around New Zealand, which can sometimes be confusing. For example, Mount Maunganui near Tauranga; maunga means mountain, nui means big, so the name means big mountain. Europeans, who probably didn't know the meaning of the name added Mount, but it is obviously redundant.
| | |
| --- | --- |
| awa | river, channel |
| iti | small |
| maunga | mountain |
| moana | sea, lake |
| motu | island |
| nui | big |
| one | beach, sand |
| puke | hill |
| rangi | sky, heavens |
| roa | long |
| roto | lake |
| rua | two |
| te | the |
| wai | water |
| whanga | bay |