Copyright © 1996-2003 Sarah Henderson.
Last updated 14 October 2003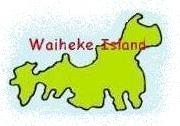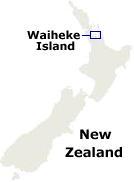 Waiheke island has an area of 92 square kilometers, and has 40 km of beautiful beaches. It is a 17km boat ride through the scenic Hauraki Gulf from Auckland City, which has a population of about 1 million people.
yesterday...
The name Waiheke means cascading waters, but the name was actually given to the island by mistake. The original Maori name of the island was Te Motu Arai Roa, or long sheltering island. It came to be called Waiheke on European maps when a group of European surveyors were travelling around the Hauraki Gulf recording names on their maps. They landed on a local beach and asked the nearby Maori fishermen what the name of this place was. The Maori told them Waiheke, which was the name of the stream they were standing beside. The surveyors then recorded that the island was called Waiheke and that is now it has been recorded on all European maps since then.
Waiheke has been home to various Maori iwi (tribes) for about a thousand years, and there are remnants of more than 50 pa sites on the island. A pa is a fortified Maori village, usually on a hilltop with good views of approaching people. It is thought that Maori settlement here was in three waves, the first being semi nomadic hunters and fishers, and the third being the Te Arawa people. When Captain Cook anchored the Endeavour off the eastern end of the island in 1769, the island belonged to the Ngati Paoa iwi.
The island was originally covered in dense kauri forests, but they have been largely cleared by the early European inhabitants for farmland. There are still some areas of native bush, particularly towards the eastern (less populated) end of the island.
Waiheke settlement by Europeans began in the mid 1800's, with the clearing of timber. The felled timber, mostly kauri, was shipped to Auckland for housing and furniture for the new settlements there. Some of it was also used for building on Waiheke, and for construction and repair of ships. Much of the manuka scrub on the island was cleared and used as firewood in Auckland. As the land was cleared, it was planted with grass and used for sheep and cattle farming. The island was subdivided for housing, intially mostly for baches, but with the improvement of the ferry service over the years, permanent residents have increased in numbers.
The eastern end of the island has network of tunnels known as Stony Batter built as part of a system to defend New Zealand from naval attack. They were started in 1941 and finished in 1944, with a total length of tunnel of about half a mile. There are two gun emplacements, now empty, but the two guns were each mounted on a carriage on a concrete pedestal, each installation having a total weight of 135 tons. They had a range of 30 miles when test fired, but were never actually used against an enemy.
...today
Waiheke currently has a permanent population of just under 8000 people, but there are a large number of baches(holiday homes) so this swells to over 30,000 in summer and long festival weekends such as Easter. A large number of Waiheke residents commute to Auckland city daily for work or study, a 35 minute boat trip through the Hauraki Gulf.
Waiheke has one primary school with over six hundred people, and one high school with about five hundred students. There is one supermarket, one building supplies store, three petrol stations and numerous dairies. There are three banks, one post office and hundreds of other businesses. Most people have a car, and almost all roads are sealed. There are three roundaouts, one pedestrian crossing and no traffic lights.
There appears to be a widespread misconception about Waiheke (particularly among 'townies', or Aucklanders) who often ask things like "do you have power?" and "do you have telephones?" and seem to think that Waiheke is an island of a couple of dozen hippies. Waiheke falls under the control of the Auckland City council, and in terms of services and amenities, we are equivalent to a suburb of Auckland City. However, in terms of community spirit and lifestyle, we are miles away. Many people comment about the relaxed atmosphere, and often remark on 'Waiheke time' (can be positive or negative, depending on how quickly you want something done).
Waiheke is generally warmer than Auckland. It is reputed to be up to 4 degrees warmer on average, but I think that regular measurements concluded it was only about 2 degrees warmer. It has a climate similar to the Mediterranean which makes it ideal for grape and olive growing. Waiheke has a number of highly successful vineyards, with more springing up all the time, many of which have won major international awards. This island is most noted for it's red wine, but I must confess, that being a struggling student and never having acquired a taste for red wine, I have never tried Waiheke wine.
Waiheke beaches are one of its most popular attractions, and there are a number of sandy safe swimming beaches, as well as a number of coastal mudflats. The mudflats are mainly on the south side of the island, and being relatively calm and shallow are good for swimming at high tide, but they can be prone to sea-lice at some times of the year. The good sandy swimming beaches are on the north side of the island, and in the summer you need to get there early to get a good position as they can get a bit crowded. My pick is Little Oneroa beach. It is small, sheltered, has a shop where you can buy drinks and ice-creams, and has good car-parking if you are not within walking distance.
One thing to be aware of if you visit Waiheke, is that there is no water or sewerage systems. Each house has its own water tank and septic tank. The water we drink is pure fresh rainwater, but in summer there isn't always enough water to last, so Waihekeans are very water-conscious. That means everyone must have a short shower, not a bath. Water from the washing or dishes is often recycled to water plants or other chores.
Most people on Waiheke travel by car, but you can walk, or hire mountain bikes or scooters to get around. There is also a bus service, that does tours of the islands and the vineyards, and then you have a bus pass to explore as you wish for the rest of the day. There are a few motels, and a number of Bed and Breakfasts, but if you want to stay a while, particularly with a family, renting a bach is probably the best option or better still, borrow one from a friend!.
For more information about Waiheke, see my Waiheke Links section or