Copyright © 1996-2003 Sarah Henderson.
Last updated 14 October 2003

this website


I aim to expand this section when I get some time, although with my current workload, I've no idea when that might be. I eventually hope to be able to offer graphic sets free for anyone who wants to use them as the basis for a website. In the meantime, you can use the html colour chooser, which lets you try out all the safe colours to use on an html page, or you can look at how this site has changed over time.


this website
What you see now is the second incarnation of this website. The content is mostly still the same, but the site structure and navigation interface have been completely changed. I wanted to experiment with an integrated navigation bar, rather than just a set of stand-alone buttons as I had previously.
For those curious about what the site has looked like in the past, I have some small screenshots below. These give a general idea of how the site looked. The four sets of graphics all had the same elements with the same names, so switching between them was a simple matter of renaming a directory.
blue
This set was the original look of the website, but I soon discarded it as the graphics files were a bit too large (7-8 kb per button, not to mention all the other stuff).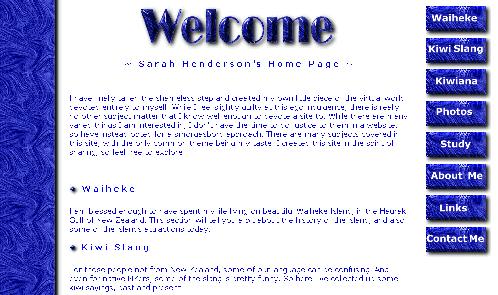 navy
This was the second look of the site - smaller files than the first one, and a more elegant look (I thought).




holly
This was the theme I had during December 1999 - showing my christmas spririt.




ivy
This was the last theme I used, I just liked it because it looked clean and refreshing.